Puntid Tantivangphaisal
Guest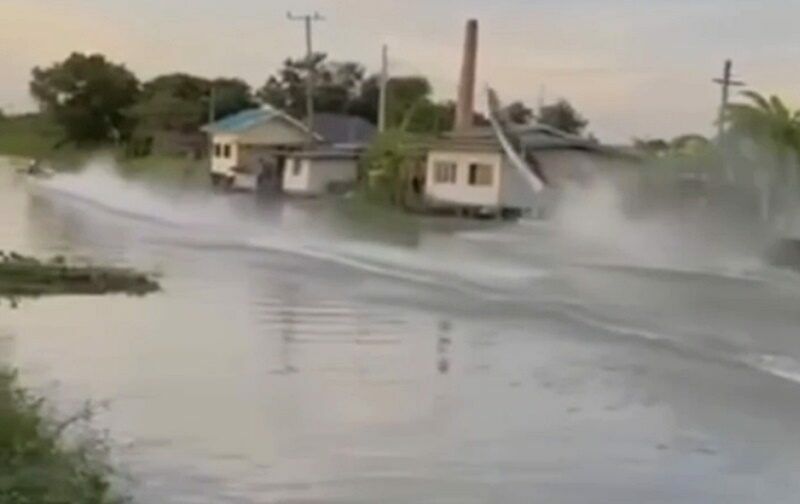 Fatal boat crash into house shocks locals in central ThailandLegacy
A thrilling
boat race
in
Samut Prakan
turned
fatal
when a
boat crashed
into a
local home
after veering off course. The incident, which occurred along the canal behind Wat Hom Sin, Bang Phli Noi, Bang Bo District, Samut Prakan province, was caught on camera by a local.
Amid the high-speed boat race, one of the boats lost control and hit a wave, causing it to crash into a house on the water's edge. The boat's driver was thrown into the water but was found to be safe from harm. The boat, however, crashed violently into the roof of the house.
A man in the video can be seen running for his life to escape the freak accident. Reporters on the ground spoke with the homeowner, who was present during the incident. He explained that the event was part of a local boat racing contest held during the Kathin festival at Wat Hom Sin. The festival took place on November 19, and the local community had organised a long-tail boat race.
As his house is located by the canal, he and his grandchildren were out watching the boat race. They never expected that an accident would occur and affect their family. During the race, he noticed that one of the boats was losing control and heading towards them at high speed.
He quickly pulled his two grandchildren to safety on the shore. The boat missed them by a hair's breadth, reported KhaoSod.
Although they were fortunate to have escaped with their lives, the house sustained damage. However, neither the boat driver nor the boat owner has yet taken responsibility for the incident. Only the village headman came to see the damage but did not provide any information. The homeowner is calling for the boat owner to take responsibility and repair the damage to his house.
The story
Fatal boat crash into house shocks locals in central Thailand
as seen on
Thaiger News
.