Puntid Tantivangphaisal
Guest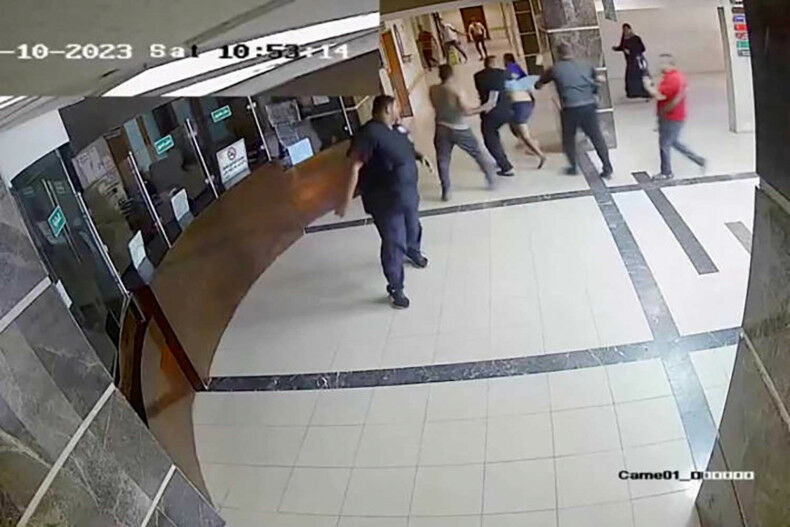 Hamas: PM Srettha seeks verification of CCTV showing Thai national in custody (video)Legacy
Prime Minister
Srettha Thavisin
directed the
Ministry of Foreign Affairs
to verify
CCTV images
that
allegedly
depicted
Hamas militants
taking a
Thai national
to a
Gaza City hospital
following the massacre in southern
Israel
on October 7.
This comes amidst ongoing efforts by the government to assist Thai citizens residing in Israel, despite the absence of additional attacks by Hamas.
Dr Prommin Lertsuridej, the prime minister's secretary-general, is tasked with overseeing the rescue mission for Thai citizens held hostage by Hamas in Gaza.
On October 7, the Israel Defense Forces (IDF) released CCTV footage and still images. These visuals purportedly show Hamas fighters escorting two individuals, identified as Nepali and Thai, to Al-Shifa Hospital in the Gaza Strip. The victims, appearing severely injured, were seen being transported to the hospital on stretchers.
The footage also shows a hostage with an injured arm being forcefully led through the main entrance of the hospital. Another individual is seen being dragged into the building. Rear Admiral Daniel Hagari, an IDF spokesperson, presented these clips during a press conference on November 19.
According to Hagari, the Israeli intelligence officers who discovered the CCTV footage were part of an operation aimed at locating hostages. He suggested that Hamas might have taken the victims for medical treatment before moving them to new hideouts, such as nearby apartments.
However, the authenticity of the surveillance footage and images has been questioned by the Gaza Health Ministry, which is run by Hamas, reported
Bangkok
Post.
Kanchana Patarachoke, the spokesperson for the Ministry of Foreign Affairs, expressed her belief that the Thai individual shown in the footage is still alive. The government's efforts to secure the release of the Thai hostages are ongoing.
"The government still has high hopes of them being safely released."
Despite the closure of the Collective Centre on November 4, requests from Thai labourers in Israel seeking to return home are still being processed.
The story
Hamas: PM Srettha seeks verification of CCTV showing Thai national in custody (video)
as seen on
Thaiger News
.