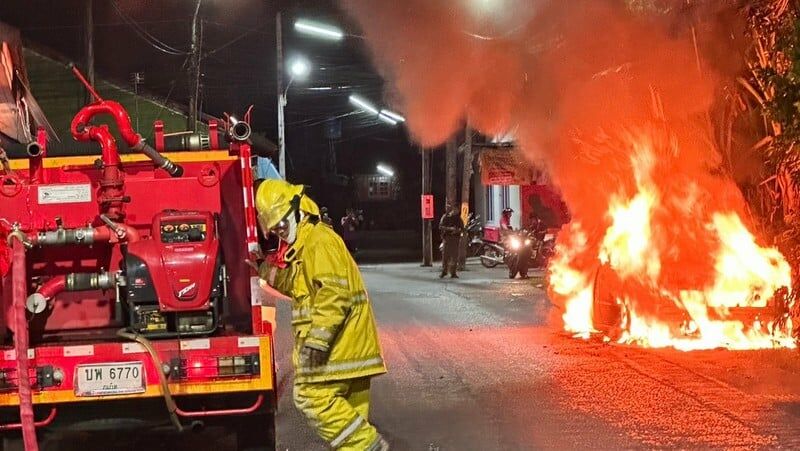 Inferno consumes Chevrolet Aveo in Phuket, arson not ruled outLegacy
A
Chevrolet Aveo sedan
was consumed by an
inferno
late last night in Soi Thanuthep, Chalong,
Phuket
. The cause of the blaze is currently under investigation, with local authorities yet to confirm whether it was an accident or a deliberate act of arson.
The
police
were notified about the incident around 10.30pm. Lieutenant Charat Lemphan of the
Chalong Police Department
was the officer on call. Lt. Charat, along with the Chalong Municipality firefighters, rushed to the scene. They found the vehicle fully ablaze, the flames reaching high into the night sky.
Despite the prompt response, the firefighters were unable to save the vehicle. They managed to extinguish the fire, but by then, the car was already reduced to a charred shell. The Chevrolet Aveo, once a reliable means of transport, was now nothing more than a pile of smouldering wreckage.
The vehicle was owned by a 58 year old man, a native of Koh Tao in Pa Phayom District, Phatthalung. The man's identity is being kept confidential by the police for now.
The owner was alerted about the fire by a neighbour who saw the flames. The vehicle, registered in Phatthalung, was parked nearby when it caught fire. Having received the alarming news, the owner promptly dialled the fire department.
The man had relocated to
Phuket
only a few months ago, in August. He made his living by crafting and selling delicious Thai desserts. The car was an essential part of his life and
business
, last used on Sunday, November 19. The man had parked the vehicle around noon that day and hadn't driven it since, Phuket News reported.
As the investigation is ongoing, the police are keeping all possibilities open. Arson has not been ruled out as a potential cause of the fire. The incident has left the local community in shock, and many are eagerly awaiting the results of the investigation.
The story
Inferno consumes Chevrolet Aveo in Phuket, arson not ruled out
as seen on
Thaiger News
.