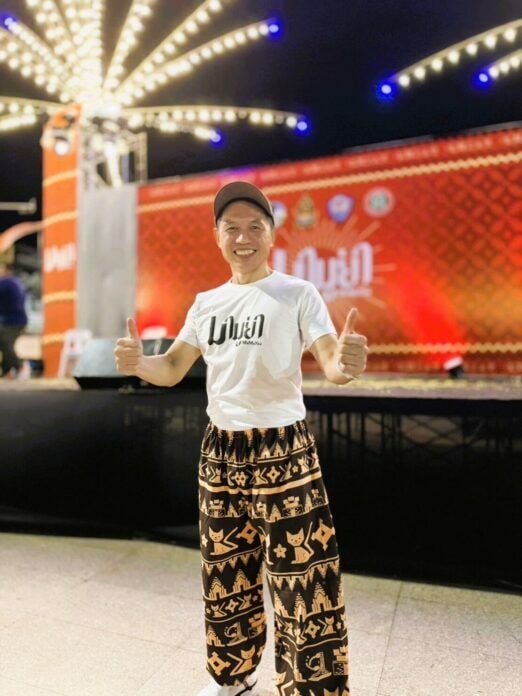 Korat Cat Pants: Thailand's new cultural symbol takes on Elephant PantsLegacy
The
Korat Chamber of Commerce
is championing the
Korat Cat Pants
as a new
cultural symbol
and potential
rival
to
Thailand
's famous
Elephant Pants
.
The product is part of a strategic effort to add value to local goods and services bearing the symbol of Korat, enhancing their recognition among
tourists
and bolstering their value in the tourism industry. This follows a successful Korat Monogram design competition held on September 21, at the Central Korat shopping centre.
The winning design from the competition has been applied to various products, including shirts, hats, bags, and notably, the Korat Cat Pants. The pants were introduced at the Mamu Ya Korat event held at Thao Suranari Monument (Ya Mo Square) between November 16 and 18 and will continue from November 23 to 26. The event features a cultural market, local community products, native food, and cultural performances by Korat's youth and artists.
On November 18 to 19, during the 41st National Chamber of Commerce Seminar at Bhiraj Hall, BITEC,
Bangkok
, a team led by Sudtirak Pansaichuea, Chairman of the Korat Chamber of Commerce, along with committee members and Korat Chamber of Commerce YEC, donned the Korat Cat Pants to much amusement. The unique pants sparked widespread curiosity about their origin and even led to more than 100 orders.
Phaichit Maanasilp, Vice President of Tourism and Investment of the Nakhon Ratchasima Chamber of Commerce, revealed that the Korat Chamber of Commerce, in cooperation with the province, had organised the Korat Monogram competition. The aim was to develop competitiveness in various fields, including economics, tourism, and sports. The monogram design was intended to reflect the history, lifestyle, culture, and local identity of Korat residents.
"We sold 300 pairs of Korat Cat Pants for 199 baht each. The fabric is excellent, and all were sold out in the first three days, so we had to place an additional order. We sell them at a very low price because we are not seeking profit."
New in-trend souvenir
The vice president added that the Korat Cat Pants, like the Elephant Pants, will be a must-have souvenir for tourists visiting Korat. The Chamber of Commerce plans to set up a permanent booth near Ya Mo Square to sell these local products.
The goal is to promote local production by encouraging residents to weave the monogram design into fabrics, enhancing their livelihoods. Details of this initiative will be discussed further, reported KhaoSod.
"During the National Chamber of Commerce Seminar on November 18 to 19, our team wore Korat Cat Pants, which created quite a buzz. We received orders for over 100 pairs. For those in Korat, you can buy them at the Mamu Ya event from November 23 to 26 at Ya Mo Square."
The story
Korat Cat Pants: Thailand's new cultural symbol takes on Elephant Pants
as seen on
Thaiger News
.