Puntid Tantivangphaisal
Guest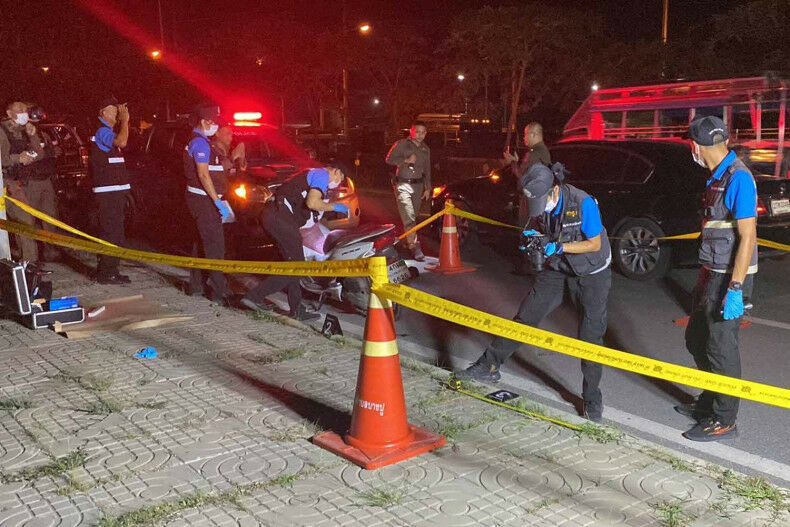 Motorcyclist shot dead in road rage incident in central ThailandLegacy
A
motorcyclist
was
shot dead
last night in a
violent road rage
incident in
Mueang district, Samut Prakan
.
Supakorn Chankhati was taking his girlfriend to the hospital when the 24 year old was hit by a stray bullet in the right side of his head around 7pm on the Bang Phli-Tamiru Road in Bang Pu Mai subdistrict. Despite being quickly rushed to a nearby hospital by rescue workers, Supakorn succumbed to his injuries.
His killer was identified as 26 year old Burapa Jiamyu who was arrested later that night at a housing estate on Soi Mangkorn. The arrest was made possible by evidence gathered from CCTV footage. According to Bang Pu
Police
Chief Pisut Chansuwan, Burapa confessed to the shooting upon his arrest.
Burapa detailed that he had been driving a pickup truck, converted for ice deliveries when he was driven to fury by a six-wheel truck driver on the same road. The two had a heated argument at a petrol station, where the truck driver brandished a steel bar. However, he retreated and drove off when Burapa presented a firearm.
Burapa confessed to police that he had pursued the truck, overtaking it and stopping in front. He then fired what he claimed was intended to be a warning shot. Unfortunately, the bullet struck the passing motorcyclist, Supakorn. Burapa admitted to stealing the gun from a teenage neighbour and later discarding it post-shooting, reported
Bangkok
Post.
Supakorn's distraught girlfriend, 23 year old Sudarat Singruang provided a heartbreaking account of the incident. She was being taken to the hospital due to a stomach ache when she heard the gunshot. Supakorn collapsed in front of her, but she managed to reach around him and stop the motorbike.
Sudarat stated they had no conflicts with anyone and saw the alleged gunman at the scene. She couldn't find any reason why Supakorn would have been targeted.
The story
Motorcyclist shot dead in road rage incident in central Thailand
as seen on
Thaiger News
.