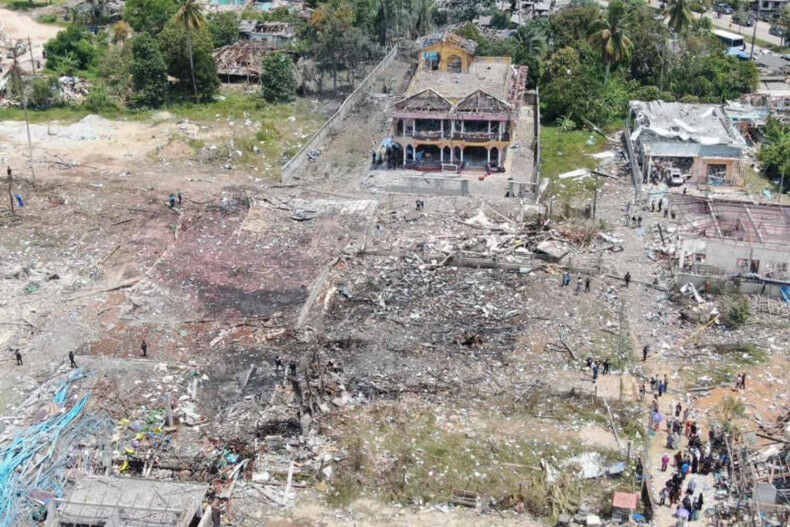 Narathiwat explosion prompts 300 million baht lawsuit by 682 claimantsLegacy
Narathiwat witnessed
a massive
lawsuit
filed by 682 individuals against two
fireworks
traders and a construction contractor, seeking damages of 300 million baht. The case stems from the disastrous warehouse explosion that occurred in
Sungai Kolok district
in July.
This legal action, filed by 68 lawyers, was triggered by the catastrophic blast at a warehouse in tambon Muno, where fireworks were stored. The incident, which took place on July 29, claimed 11 lives, left 389 people injured and caused damage to 649 houses and three schools.
The warehouse owners, both 42 years old, Sompong Nakul and his wife Piyanuch Puengwirawat, were present in court, alongside Pathomporn Phromsakul, the construction contractor who was responsible for erecting the warehouse shelves. To avoid any potential conflict, the respondents were held in a separate room from the plaintiffs who were accompanied by their lawyers.
The trio is already facing a slew of criminal charges including recklessness causing death, substandard construction leading to fatalities, illegal trading and importation of fireworks, and unauthorised alterations to a building. Despite offering assets worth 1 million baht as bail security, their request was denied by the court.
According to Lertsak Chotepanit, the lawyer representing Sompong, the couple is committed to paying compensation. They have already deposited 1.1 million baht in cash with the court to assist the families of the 11 victims who lost their lives in the blast.
Olarn Kulwichit, one of the lawyers for the plaintiffs, revealed that both parties would initially discuss compensation at a meeting scheduled for February 5 next year, reported
Bangkok
Post.
The explosion, which took place around 3pm on July 29, reportedly occurred during welding at the Weerawat Panit warehouse in the Muno market. This market is a significant hub for cross-border trade in the Sungai Kolok district, which is adjacent to Malaysia.
The explosion resulted in the destruction of the warehouse, numerous market stalls, and hundreds of houses.
The story
Narathiwat explosion prompts 300 million baht lawsuit by 682 claimants
as seen on
Thaiger News
.