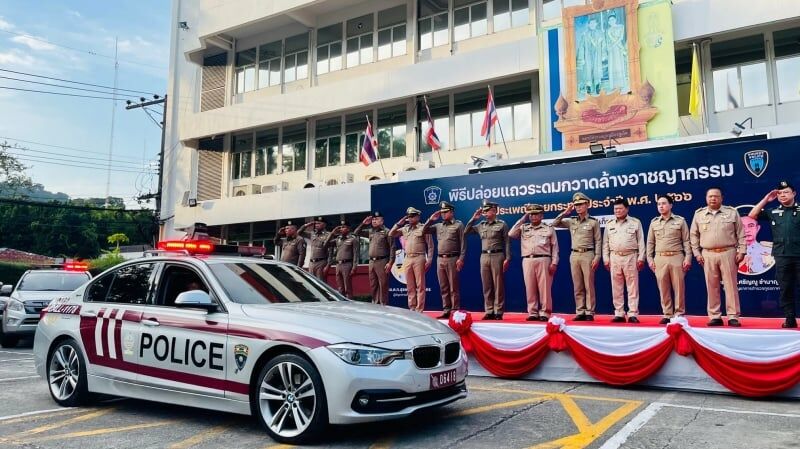 Phuket police launches anti-crime campaign ahead of Loy Krathong FestivalLegacy
Phuket City Police Station
was a buzz of activity as it marked the initiation of an intensive seven-day anti-
crime
campaign, aimed at ensuring safety during the upcoming
Loy Krathong Festival.
The campaign, spearheaded by Region 8 Police Deputy Commander Police Major General Nipon Rattanasirisaengchot, kicked off yesterday, November 20 and is set to run until November 26.
The Loy Krathong Festival, a nationwide event, will be celebrated on November 27. An official explanation for the campaign concluding a day before the festival was not provided. This strategic decision, however, could be part of a broader plan to maximise focus on the festival day itself.
This sweeping campaign brings together a diverse set of law enforcement entities. From local police to the Volunteer Defense Corps personnel and representatives from local
government
agencies, all hands are on deck to ensure a safe and secure festival experience.
Present for the campaign's launch was Pol. Maj. Gen. Sinlert Sukhum, Commander of the
Phuket
Provincial Police. Also in attendance were officers from the Royal Thai Navy Third Command, soldiers from the 42nd Military Circle, and officials from the Phuket Provincial Office of the Internal Security Operations Command (Isoc) – the political arm of the Thai military. Some 315 officers, officials, military, and security personnel gathered to mark the campaign's commencement.
The campaign reflects a collective commitment to public safety, especially during the Loy Krathong Festival 2023, as Maj. Gen. Nipon iterated. Such initiatives are integral in upholding Phuket's positive
tourism
image, in line with government policy.
The Loy Krathong Festival is a time-honoured tradition, celebrated with widespread enthusiasm. Maj. Gen. Nipon highlighted the various activities that take place during the festival, from floating Krathong along rivers and canals to attending local festivities featuring light and sound shows, as well as candle-burning and fire-playing ceremonies.
Traffic congestion, crime, safety
Loy Krathong Festival celebrations also bring potential challenges in the form of traffic congestion, crime, and safety risks associated with pyrotechnics, fireworks, firecrackers, and flying lanterns. Moreover, there's a risk of criminals exploiting the festivities to carry out nefarious acts at various event venues.
To counter these challenges, the Royal Thai Police have put in place a comprehensive strategy that includes crime prevention measures, fire safety protocols, crime suppression measures, peacekeeping initiatives, as well as traffic management and public relations measures. This campaign will be active across the country from November 20 to November 26.
Maj. Gen. Nipon concluded by emphasising the commitment to ensure the safety of both citizens and tourists. It's all about reinforcing confidence and promoting a positive image of Phuket's tourism sector during the Loy Krathong festival in 2023.
The story
Phuket police launches anti-crime campaign ahead of Loy Krathong Festival
as seen on
Thaiger News
.