Puntid Tantivangphaisal
Guest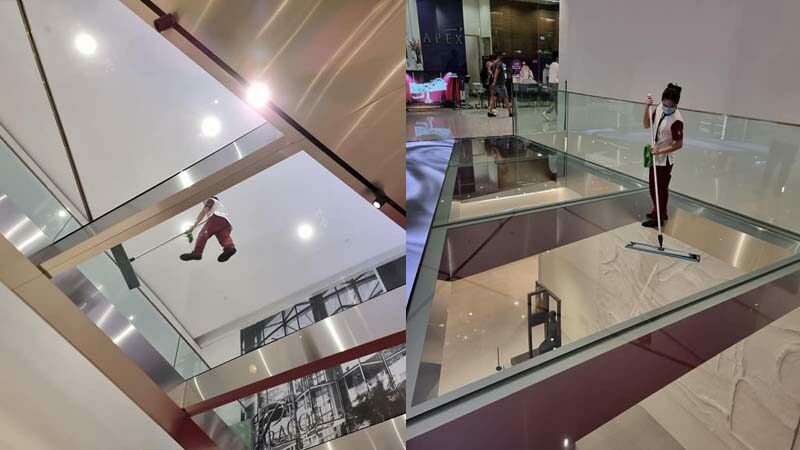 Siam Paragon's new transparent glass floor stirs privacy concernsLegacy
One of
Bangkok's
premier shopping malls,
Siam Paragon
sparked
social media controversy
with its
new transparent glass
floor zone
.
The renovated area in question, revealed on Facebook by Propholic, is a transparent glass floor on the second level, offering a clear view from the top to the bottom and vice versa.
The architectural design provides a unique perspective, allowing shoppers to observe the bustling activity from both above and below. However, the post quickly went viral as netizens began to question the privacy implications of the design. Many comments expressed concern for individuals wearing skirts, while others made crass remarks about the voyeuristic opportunities the design presented.
A particularly strong response came from an anonymous ex-account criticising the behaviour of netizens commenting on the original post. They pointed out the potential privacy breach for women wearing skirts and raised concerns about the capabilities of modern mobile phone cameras. They also criticised the inappropriate comments, particularly from a male user whose profile picture included his wife and daughter.
This tweet quickly went viral, attracting harsh criticism of the aforementioned comments. Netizens raised concerns about safety, privacy, and the potential for inappropriate behaviour. Some even suggested that a film should be applied to the glass floor that only allows visibility from the top down, to protect against prying eyes, reported KhaoSod.
However, the new design has also sparked a debate about its practicality. Some netizens have praised the innovative and beautiful design, suggesting those who find it inconvenient should choose alternate routes. Others have questioned its practicality and raised safety concerns.
In related news, the world indeed goes round in unexpected ways, as discovered by a TikTok user who chanced upon an old friend in Siam Paragon after a 22 year separation. Following this unexpected reunion, the friend promptly returned a long-overdue loan of 10,000 dollars, which converted to almost 500,000 baht. Read more about this story
HERE
.
The story
Siam Paragon's new transparent glass floor stirs privacy concerns
as seen on
Thaiger News
.