Puntid Tantivangphaisal
Guest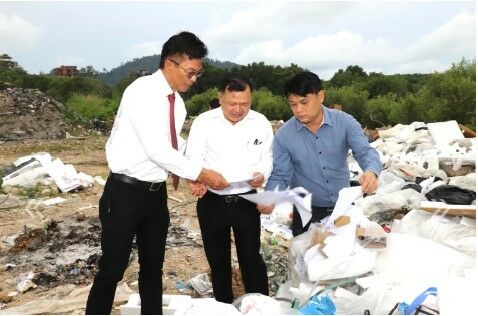 Southern Thailand: Illegal waste dumping threatens Ratsada's mangrove forestsLegacy
Garbage dumping
within the
mangrove forests
near the Soi King Kaew community in
southern Thailand
is
causing concerns
and disrupting the harmony of the
ecosystem
.
Local authorities have started investigations led by Ratsada's Mayor, Nakarin Yosaengrat who has pointed out a potential culprit and initiated legal action.
Mayor Nakarin, along with an entourage of officials from the Ratsada Municipality executive council, council lawyers, and representatives from the local community, embarked on an inspection tour of the affected site on Friday, November 16. The location is nestled near Soi King Kaew 2, a place familiar to the locals as a community ground for growing produce, officially designated by the Office of the
National
Land Policy Board.
During the inspection, the officials stumbled upon an unexpected find – a white pickup truck filled to the brim with foam-type garbage, plastic bags, and other similar waste. The driver, caught off-guard in the act of unloading the waste, was swiftly apprehended, as per the official report.
Through dialogues with the locals present on the day of the inspection, the officials gathered that this was not an isolated incident. The site had been repeatedly violated by external parties, who were discarding their refuse at the location. This revelation further spurred the Ratsada Municipality's resolve to take the issue to the court, reported
Phuket
News.
The municipality announced its decision to bring charges against the pickup truck driver, as detailed in the official report. Mayor Nakarin, in his capacity as a leader, urged his fellow community leaders and residents to band together in a collective effort to safeguard their area. He stressed the importance of strict vigilance to deter further illegal dumping at the site.
In related news, a contentious plan proposing the construction of seven dams in Nakhon Nayok and Prachin Buri has drawn serious backlash from conservationists. They argue that the project threatens to wreck 16,000 rai of land located within the Dong Phaya Yen-Khao Yai forest. Read more about this story
HERE
.
The story
Southern Thailand: Illegal waste dumping threatens Ratsada's mangrove forests
as seen on
Thaiger News
.