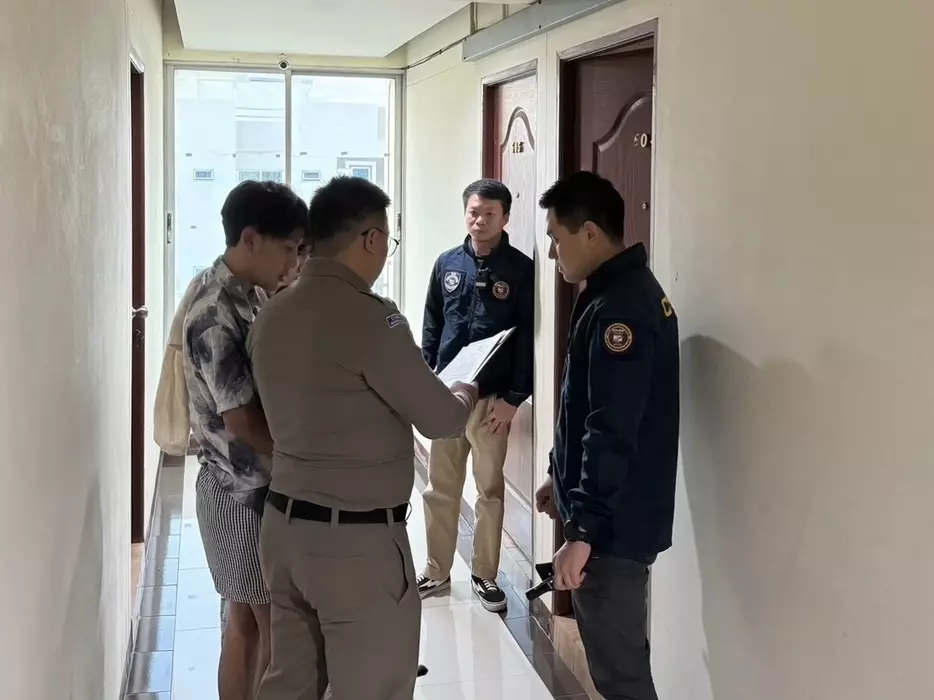 Thai singer seeks justice after lookalike porn damages reputationLegacy
Police
arrested
a
Thai man
in
Bangkok
yesterday for distributing and selling
pornography
of a man resembling a
Thai singer
on social media.
ThaiRath reported that a male Thai singer had filed a complaint with
Cyber Crime Investigation Bureau
(CCIB) officials that his image and reputation had been damaged by pornography shared online. A person who posted the
video
claimed that the man in the porn was the Thai singer when in fact it was a lookalike.
The Thai singer reportedly wishes to remain anonymous. He was famous in the 90s and no longer works in the Thai music industry.
According to the media, the caption of the video read: "Leaked video! Famous 90s celebrity masturbates!"
The video was posted on Twitter and officers were able to identify the account owner as a 26 year old Thai man named Nattanai Hokkhuntod.
Officers traced Nattanai's whereabouts and found that he was staying in room number 504 on the second floor of the Lumiere Residences building on Soi Lat Phrao 81 in Bangkok's Lat Phrao district. Police then raided his room yesterday, November 20, and arrested him on the spot.
Nattanai confessed that he bought the video for 50 baht from another Twitter account. He did not think the person in the porn was the singer but saw that he could make money from it because there were many netizens interested in seeing the video.
Nattanai said he sold the video to others and made over 7,000 baht before the account was deleted. He decided to create a new account to continue selling the video but was arrested before he could do so.
Nattanai faces two charges including:
Section 287/1 of the Criminal Law: possessing child pornography for personal sex-related proposes or public distribution. The penalty will be imprisonment of up to five years, a fine of up to 100,000 baht, or both.
Section 24(4) of the Computer Act: importing explicit information into the computer system where the public can access the information. The penalty is imprisonment for up to five years, a fine of up to 100,000 baht, or both.
The story
Thai singer seeks justice after lookalike porn damages reputation
as seen on
Thaiger News
.