George Oshogwe Ogbolu
Guest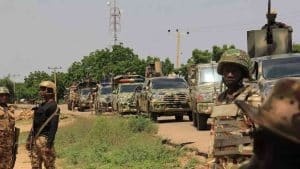 Niger Republic has reportedly withdrawn its troops attached to the Multinational Joint Task Force at the border with Nigeria due to financial sanctions on the country by the European Union, African Union, the United Kingdom governments as well as other donor organizations.​
Naija News
recalls that the major financial partners of the multinational joint task force, EU, UK, AU, and ECOWAS have announced several sanctions on Niger, cutting financial support following the military take over with ousted the government of Mohamed Bazoum.
The Sanctions meant to mount pressure on the military government includes freezing of Assets, fund restrictions, shutting down of borders, suspension of imports and exports, power supply cuts and the shutting down of the West Africa's regional central bank, BCEAO among others.
Speaking to Daily Trust, a source familiar with the issue said: "
The sanctions had affected their (Sector 4) operations. The EU provides the funding so due to the sanctions the EU will not be able to pay the Niger contingent.

"Also, when they are deployed the MNJTF helicopter goes to Niger to pick them to Ndajemena but due to the sanctions, they cannot go and pick them up. Even if they come, the EU won't be paying.

"So officially, MNJTF have not withdrawn from the frontline, and at the same time, there is little they could do because their funding was cut off by the EU. The problem has to do with sanctions."

"When commanders finish their tour of duty at the MNJTF, Niger may not be able to deploy another commander because MNJTF cannot go to Niger to pick them and even if they do, no funding due to sanctions
," the source explains.
In separate reactions to Daily Trust report, the Spokesman of the multinational joint task force, Abubakar Abdullahi and Director, Defence Media Operations, Eward Buba, both denied the withdrawal of Niger from MNJTF.
"Note that, Niger is responsible for Sector 4 of the MNJTF that is located in Diffa. The communication channel between the Sector and HQ MNJTF has been less than perfect. This is obviously, due to the political situation
," Buba told Daily Trust Sunday.
However, they noted that the Defence Headquarters was hoping that things would improve as tension continues to calm down.
The post
Why Niger Withdrew MJTF Troops Fighting Boko Haram, ISWAP From Border With Nigeria
appeared first on
Naija News
.